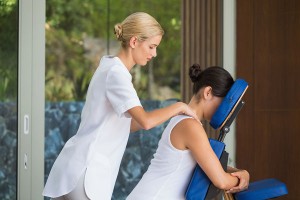 Massage Frog is a chair massage company that will come directly to your hotel room in Las Vegas or Oklahoma City for an in-room massage. Are you coming to Vegas for a visit or are you in town for a trade show? Whether you are here on vacation or for work, a massage can always provide much-needed relaxation. A chair massage is an ideal way to ease muscle tension from a long day at a trade show or walking the strip. Whatever the reason for your visit, there is always room for a little indulgence. Let Massage Frog bring our chair massage services directly to your hotel room.
Relax In The Privacy Of Your Hotel Room
Massage Frog specializes in mobile chair massage that can be brought to any client in their hotel room. We make it easy for you to relax and recharge after your busy days and nights. Some hotels have a massage spa, but it makes sense that some guests would rather get a massage in their room. For those business travelers that may be short on time or aren't free during regular hours, we provide an inexpensive alternative to a traditional massage in the privacy of your hotel room. We can also send more than one massage therapist to your room if there are multiple guests present.
Benefits Of An In-Room Hotel Chair Massage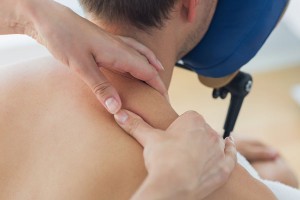 There are endless benefits that a chair massage will provide for your overall well-being. We begin by listening to any special needs that you may have so we can treat any problem areas. Sitting in a chair at meetings all day, or on the floor standing at a trade show for several hours can cause a painful build up of tension in your shoulders and neck. It is important to relieve that stress so you can get a good night sleep and be ready to take on the following day. We bring all of the equipment with us to your room. The massage chair does not take up much space, and it's a fast, easy setup and breakdown process.
Book Your In Room Hotel Chair Massage Today
Give us a call to book your chair massage before or during your visit to Las Vegas or Oklahoma City. Let us relieve your tension with one of our many chair massage packages provided in the comfort of your hotel room.