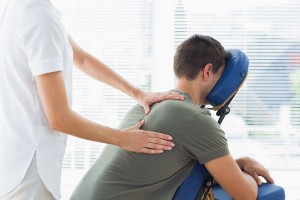 Enjoy the endless benefits of a chair massage with Massage Frog. With two locations based in Las Vegas and Oklahoma City, we are here to make you happy. A chair massage is given over clothes usually given in 10-15 minutes. You will sit face down in the chair and your neck, arms and back will be the focus of attention. There are no massage oils required. A chair massage is common in many high-stress locations, such as an airport, corporate events or trade shows. A chair massage may also be right for you if you are shy about getting a full body massage.
Health Benefits Of Chair Massage
Before you feel guilty about treating yourself to a massage, you should keep in mind of all the health benefits involved. A chair massage can calm the nervous system and bring your mind and body to a state of relaxation. There is also a significant reduction in tension and anxiety. A massage will improve your blood circulation, delivering oxygen and the proper nutrients to your body. Receiving a massage can also prevent any cramping and tension from overworked muscles. It is an effective way to release tension in your body before the tension takes over.
Massage For Enjoyment & Relaxation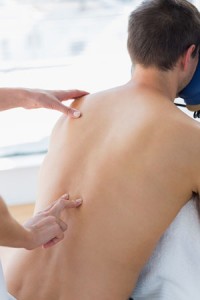 Our chair massage services will bring enjoyment and relaxation to you, your employees and your corporate events. At Massage Frog, we make it easy and stress-free to book an appointment. Our on-site mobile chairs will not take up much space. A chair massage typically last 15 minutes giving us plenty of time to fit everyone in. It is also an affordable way to take away stress and create positive moods and overall well-being.
Your Las Vegas Massage Experts
Massage Frog is a Las Vegas based massage company providing mobile services that will come to you or your event. It is a great way to show appreciation for your employees, and it's a unique marketing tool to gain attention for your trade show booth. Our professional, experienced massage therapists will bring all equipment so you can simply enjoy the results. Give us a call, and we will take care of the rest.