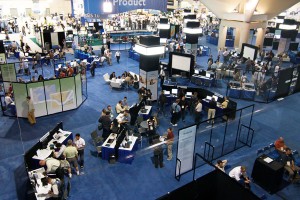 Massage Frog is an on-site mobile chair massage service for conventions and trade shows in Las Vegas and Oklahoma. Our professional, experienced massage therapists can handle any need. We specialize in corporate wellness programs, conventions, trade shows, exhibit and booth promotion, company chair massage, and one-time special events.
Massage Frog focuses strictly on chair massage to provide the most experienced massage therapists for your event. It's simple — you show us where you want us and we'll take care of the rest. We know how to represent your company and make you look good.
We bring our own equipment and take care of the setup, ensuring we take up the least amount of space. Our chair massage service can be added to any booth to make it unique, relaxing, and memorable.
Bring People To Your Booth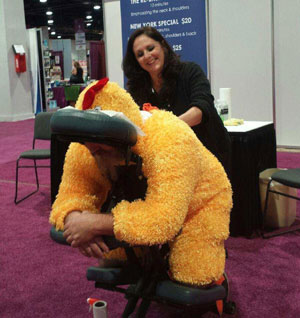 Massage Frog's chair massage service brings wellness to your employees and prospective clients along with an appreciated break from stressful trade shows. Our chair massage services is especially effective when used as a marketing tool to promote your company, product or service at a trade show, convention or event.
We help make events successful by setting up chair massage relaxation stations as a marketing promotional tool for your trade show booth, on the convention floor, or in a private staff break area.
Give Them A Relaxing Break
By promoting health and wellness at your event, your company will leave a long lasting, positive impression with potential future clients. What better way to attract potential clients and leads to your booth while also giving your staff some much-needed relief from the hard work that goes into a busy event? We can't think of a better way to make a lasting impression. Why hire an Elvis impersonator or beautiful model, when you can relax them into the sale?
Benefits of Chair Massage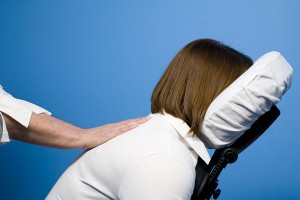 There are many benefits to chair massage that would provide relief to those visiting your event and your employees working the event. Those benefits include Increased circulation, muscle tension reduction, detoxing, endorphin release (keep your employees and clients happy), reduction of fatigue and anxiety, and much more.
Get Us At Your Next Booth
Massage Frog makes it easy so you can enjoy the benefits of massage while you travel to Las Vegas. Onsite chair massage is the perfect choice for corporate stress management, and your booth will stand out above the rest. Our set up is fast and easy, and our equipment will not take up much of your booth space. Call Massage Frog today to discuss what we can do for your upcoming Las Vegas event.