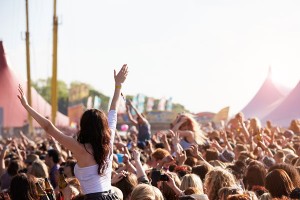 Massage Frog is your Las Vegas on-site mobile chair massage provider for festivals, events and concerts. With chair massage, you receive all the exceptional benefits of massage with the added element of mobility. Our experienced, professional therapists provide the massage chairs and manage set-up and breakdown of equipment.
How Chair Massage Works
Chair massages require no removal of clothing and focus on the head, neck, shoulders and arms. Each massage lasts from 10-15 minutes. That means you can send a steady stream of people through the massage line, ensuring you provide this great service for as many event-goers as possible. No massage oils are required, and it's a wonderful solution for those who are not comfortable with a full body massage.
Your Marketing Dollars At Work
Securing a massage chair for your festival, event or concert will be some of the best marketing dollars you've ever spent. Not only is it a unique offering that makes you stand apart, but also it helps solidify the experience in the minds of participants and increases their positive impression of the occasion.
Make Occasions Memorable
You can make any occasion memorable with the addition of chair massages. Consider using them for:
Festivals – Whether you are the event promoter or someone with a booth, chair massage will increase your foot traffic and the festival experience.
Events – If you are organizing a special event or have a booth at one, use chair massage to increase visibility and create positive marketing.
Concerts – Be it backstage for performers and other VIPs or out in front, chair massages are a great way to add value.
Parties – Be it a birthday or a bachelor/bachelorette party, chair massage will take the celebration to the next level.
Sporting Events – Whether it's an indoor or outdoor event, a chair massage is the perfect fit for any sporting event.
Health Benefits Of Massage
Massage is both physically enjoyable and beneficial. Massage reduces the anxiety and tension in the body and decreases the impact of stress on our nervous system. It also stimulates blood flow and increases oxygenation of muscles and organs, thereby nourishing the body and increasing well-being.
Book Your Chair Today
Located in Las Vegas with a branch serving Oklahoma City, Massage Frog is your mobile massage solution. Whatever your event or special occasion, our experienced massage therapists will provide the value-added element for which you've been looking. Call us today to see how we can help contribute to your next festival, event or concert.